DER Plant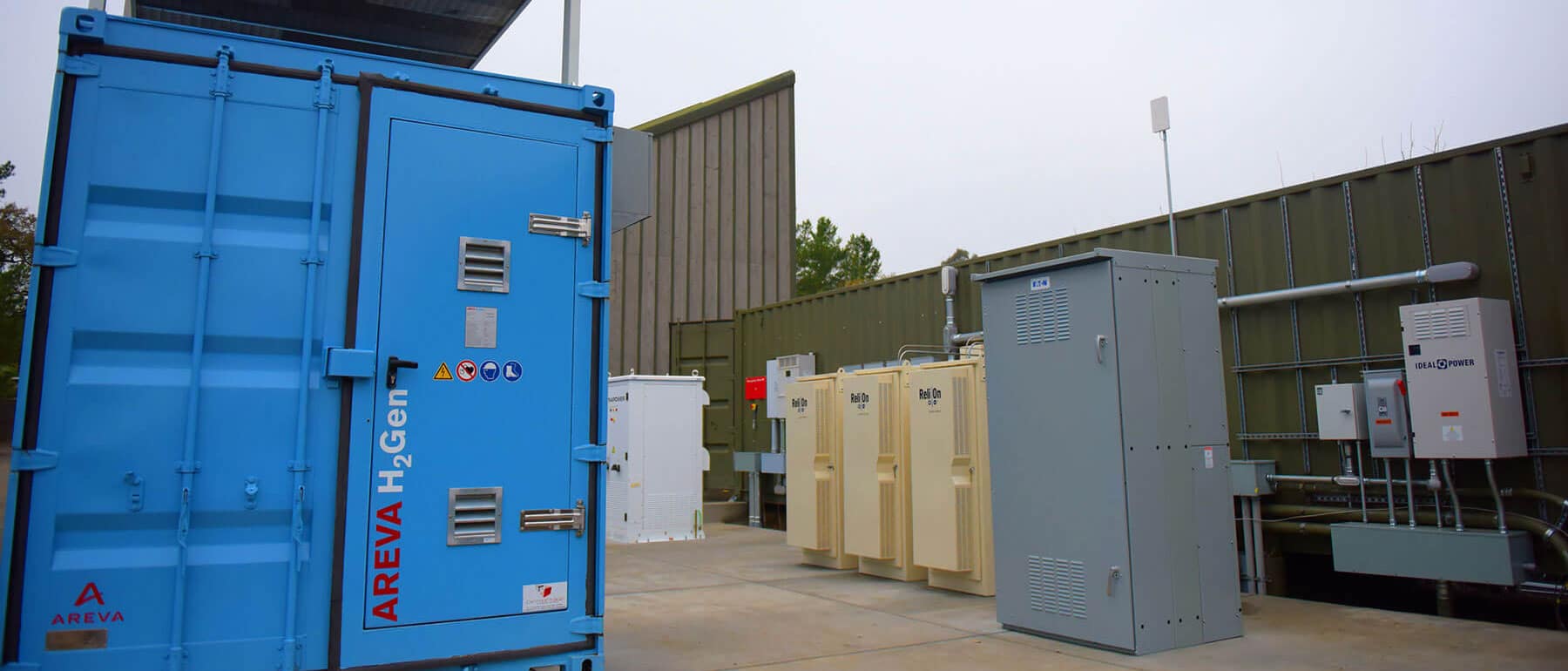 On a spur of land in the farm's northwest corner, the distributed energy resource (DER) power plant can be electrically isolated for special study purposes.
The single point of common coupling (PCC) with the utility grid is where we monitor our entire system as one entity, measuring each of multiple assets running, and where electricity can be imported or exported.  
The ATS here, a specially developed Emerson ASCO Microgrid Actuation Circuit, appropriately called the "MAC switch," measures power quality. If voltage and frequency are normal on the utility grid, that connection is maintained. If not, the switch looks for voltage and frequency on the emergency (MicroGrid) side and, finding it, first synchronizes them before switching to island mode. This switch can either be controlled or operated automatically
Located here as well are California Independent Service Operator (CA ISO) and Pacific Gas & Electric (PG&E) service meters, and a Schweitzer relay, an extremely fast safety device that protects people working on the grid. The ag shed roof holds a 123-panel solar array that generates 29kW.
The new 120kW/26kWh, 480V SimpliPhi Power high-voltage lithium ferro phosphate battery being installed comprises eight cabinets each containing a rack of ten high-voltage 3.6kWh 24V battery modules wired in series with a second rack to form a string of 20. Each string is matched with a Battery Management System (BMS). In island mode, this battery can also function as a master, using the same 250kW Dynapower inverter as the Tesla Powerpack. This multi-master status provides redundancy and resilience with no single point of failure in island mode. 
Hydrogen Park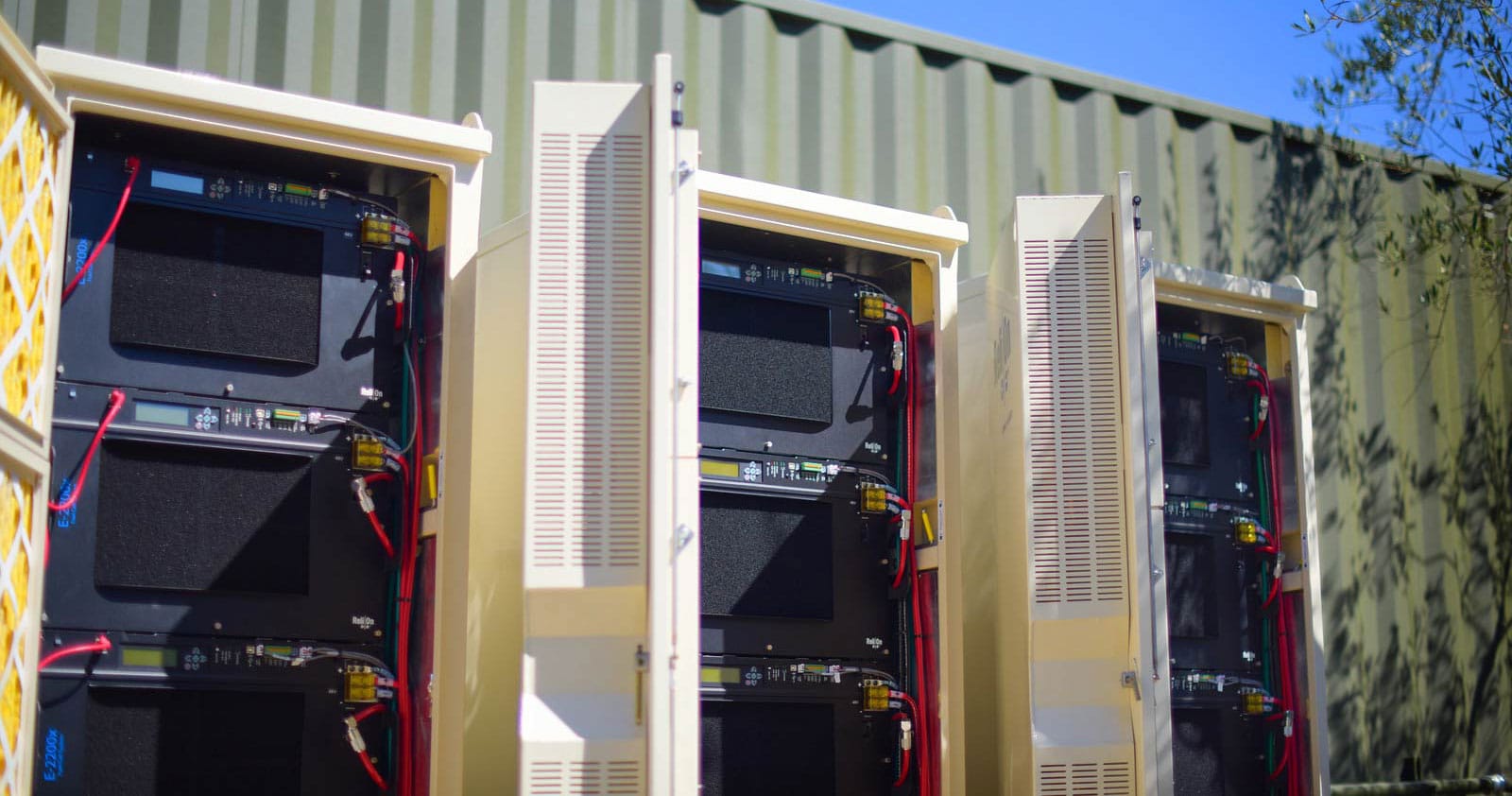 PlugPower ReliOn fuel cell hives
The hydrogen park includes fuel cell hives, a hydrogen storage and fueling station, and a major installation in progress, an electrolyzer.
The park is a system "round trip," a complete cycle of electricity starting with surplus solar panel generation that powers the electrolyzer that produces hydrogen gas stored for eventual use in fuel cells that provide electricity for the trunk line or electric cars.
Most plentiful element
Lightest element: 1 proton, 1 electron
Rises in the atmosphere at 45 mph
Use has zero environmental impact
Fuel cell process byproduct is water
Safer than gasoline, diesel, natural gas
NASA uses as an energy carrier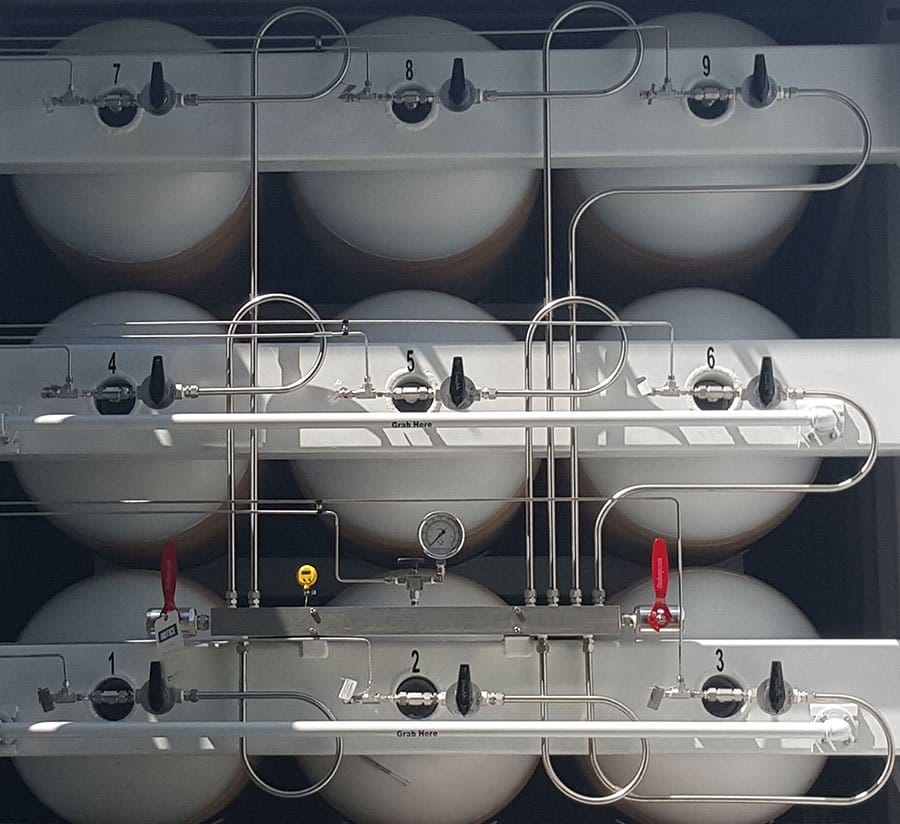 Bulk H₂ transfer module
The Areva H2 Gen/Giner Electrolyzer container holds three Giner ELX Proton Exchange Membrane (PEM) stacks with the balance of plant – including wiring, electronics, water filtration/demineralization, and hydrogen dryer  -- provided by Areva.
After batteries are fully charged, this load uses surplus solar-generated electricity to split water into two non-greenhouse gases, oxygen and hydrogen. The latter can be stored indefinitely without degrading and accessed immediately to power fuel cells. This electrolyzer is "spoolable." Its output adjusts to match the level of overproduction from solar arrays.
Hydrogen run through the PlugPower ReliOn fuel cell hives reverses the electrolysis process to create electricity on demand. The three hive cabinets each contain a stack of four 2.33kW units, totaling 28kW. If a unit fails, it is easily replaced. The fuel cells feed a 30KW Siemens Sinamics DC/DC converter that boosts voltage for an Ideal Power 30kW inverter, which sends 480VAC/3P to the trunk line.
The farm's base load at night without irrigation running is 15kW. Our largest (20hp) water pump can consume up to 30kW of power, but it is equipped with a variable frequency drive (VFD) and can spool up and down.
Six smaller pumps, all run along with the largest one, theoretically could spike power use at 50kW, but their use is staggered, and three of them have VFDs. An electrical vehicle (EV) charging station also can consume 30kW. We calculate our maximum load at about 100 kW.
Our system follows the base load at night. If something turns on, the hive activates more fuel cells. SimpliPhi 3.5kW lithium ferro phosphate batteries "buffer," or provide voltage support, for the cells.
Hydrogen is stored at 6,500 and 10,000 psi in 48 1kg tanks, and at 800 psi in bulk storage on a gas transfer module that holds 200 kg. Our goal is to store 500 kg to serve as a buffer during winter.
Hydrogen also powers our fuel cell-equipped vehicles, Toyota Mirai and Honda Clarity cars. A Millennium Reign Energy fueling station fills their tanks in a few minutes. In both fuel cell applications, hives and cars, the byproduct is pure water with zero carbon emissions.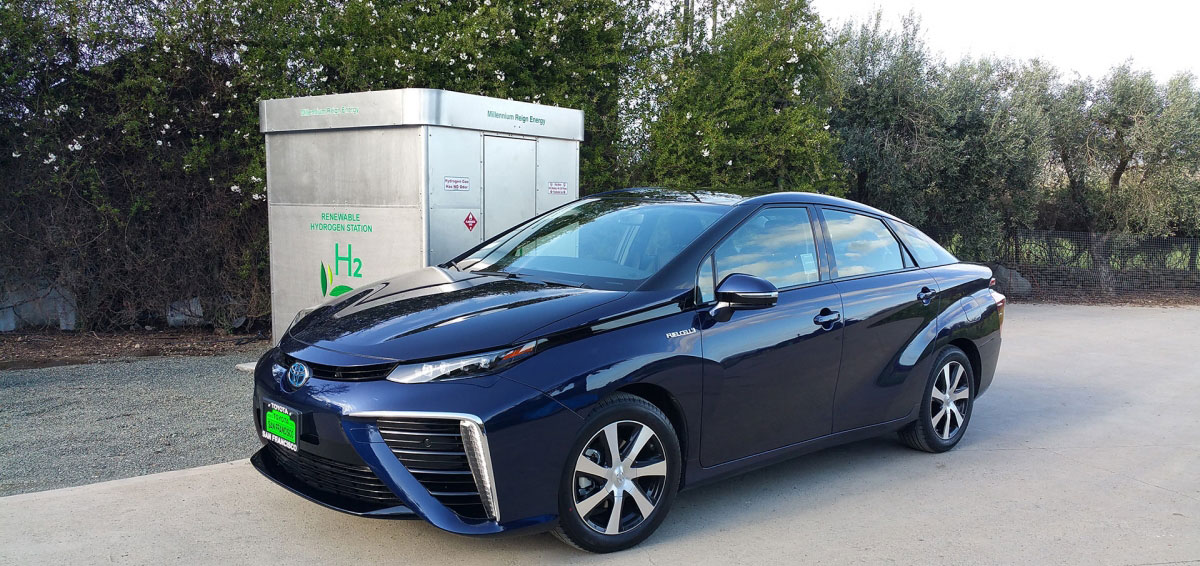 Toyota Mirai at the Millennium Reign Energy fueling station