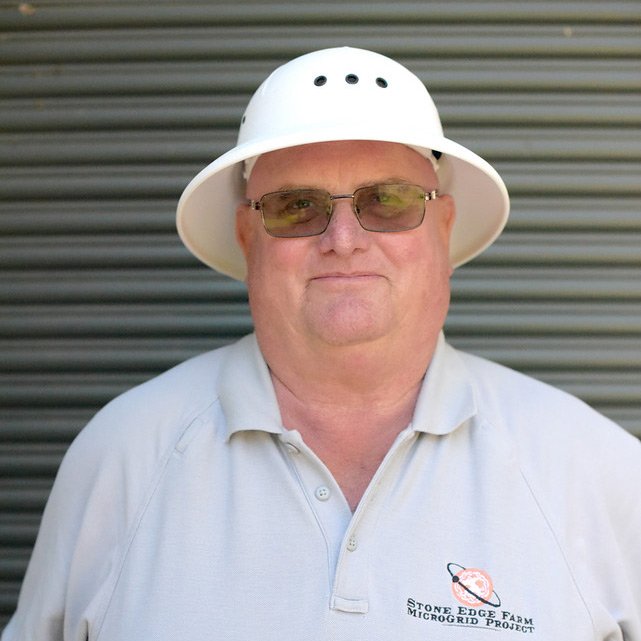 Stone Edge Farm mourns the loss of Craig Wooster
Stone Edge Farm lost a close friend, our innovative and talented MicroGrid project manager, when Craig Wooster, 66, died suddenly on October 16, 2018, of natural causes while at work in Sonoma.
Craig is survived by his wife of 44 years, Carol Wooster, and by their sons, Troy and Trent Wooster. Troy succeeded his father as MicroGrid contractor.
Craig was born on October 30, 1951, in Queens, New York, and grew up in Oakland, California. He attended Humboldt State University, and dedicated most of his adult life to building energy systems to create a more sustainable world. As CEO of Wooster Energy Engineering, he culminated his career with his greatest achievement, the Stone Edge Farm MicroGrid, which he and owner Mac McQuown conceptualized in 2013 and brought to life over five years. Craig supervised and mentored scores of interns, who ranged from high school to post-doctoral students.
During the October 2017 wildfires in Sonoma County, the MicroGrid became a "living laboratory" when the farm was evacuated, operating for ten days in island mode in the midst of a widespread power outage. In early August, 2018, Craig looked on as Leslie McQuown pressed a button that returned the MicroGrid to island mode indefinitely.
With passion for his work and his genius for systems integration, Craig was a source of inspiration, technical acumen, integrity, and strength for all those he touched. He is missed.